During chapel on Tuesday, May 10, Southeastern honored several students with awards and certificates. Southeastern is proud of the accomplishments of our students, and this semester's awardees have shown excellence both in the classroom and in their daily lives.
Before the announcement of the awards, Chapel attendees were led in worship by Southeastern students and Dr. Joshua Waggener.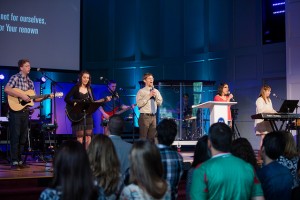 Dr. Danny Akin also recognized Sheldon Alexander for his 27 years of service to Southeastern as the Registrar, Associate Vice President for Academic Support and Alumni Communication Specialist. Sheldon will retire this summer.
Read below for a list of the students honored this semester during awards chapel.… Read More...