Sean Robinson: Living Life on Mission from Raleigh to San Diego
Just two years ago, Sean Robinson made the move to Southeastern to begin working on his MDiv in Missiology. Since then, he has woven himself into several key roles on campus: he's a Campus Ambassador, a Resident Assistant, this year's GenSend Campus Mobilizer, and a member of the Kingdom Diversity committee. Robinson's passion and purpose are clear: he's a man eager to make disciples wherever he goes.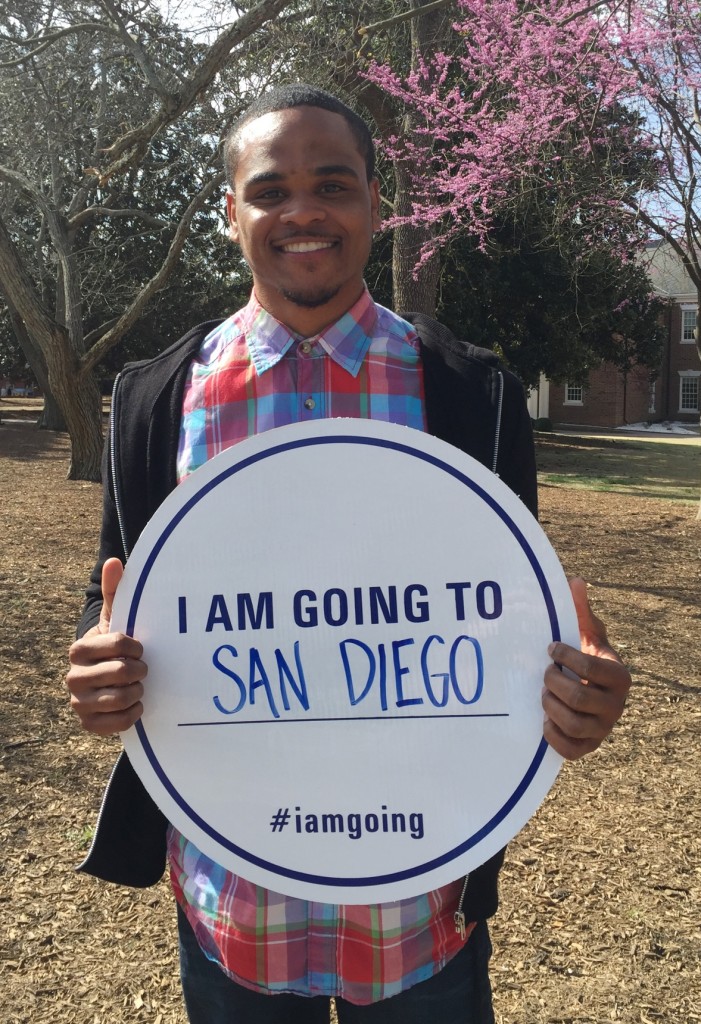 What brought you here to Southeastern?
Well, I love missions, partly because of what my Dad does — he's been doing missions for 40 something years now. As I was sharing my desire to study missions with one of his friends who is a missionary in Thailand, she said, "If you want to study missions, there's no better place to go than Southeastern." So, I came down here for Preview Day with my dad, and just through that visit and seeing the heart for the Great Commission here, I was sold.
Tell us about this upcoming trip to San Diego with GenSend. How did you get connected to that?
Missions and youth are big on my heart, so the question became this: what does it look like to combine the two?  I was just sharing that with people I know, and someone told me about the position of campus mobilizer that was opening up for GenSend. So I talked with CGCS and went through the application process, and now I'm getting to blend those two passions together by leading college students on mission in San Diego.
What will your team be doing in San Diego? 
Anytime that you mix the beach and the gospel, it's always a good day! Obviously, we won't be on the beach every day, but for six weeks this summer, ten of us from Southeastern will be serving in San Diego through GenSend, a program NAMB has set up for college students ages 20–25. With 83 percent of the North American population living in urban areas, NAMB has pinpointed 32 major cities where the majority of people reside. They've focused on those cities and they are really sending people to work with church plants and really just do the hard work people do for church planting. We'll be going to scout various neighborhoods, mapping, prayer walking — really just kind of helping out and learning what it looks like to church plant in major cities.
To sum it up, the big thing they want to focus on is how to live life on mission. So how do you, in your everyday life, live out the Great Commission?
How could we specifically pray for you and your team as you go to San Diego?
I think the biggest prayer is just that we would, as a team, really be united. That we would all have the same focus of why we're going. We're going to San Diego, and there's a lot of distractions there, so pray that we keep the main thing the main thing — and that is seeing people come to know Christ. Pray that we would really grasp that — not just our team from Southeastern, but the other three teams going as well. Pray for all 44 of us, that we'd be on the same page, and that we would love one another well, that we might be able to love those around us well in the city of San Diego. And really, just pray for the hearts of those we'll come in contact with, that they might be receptive to the gospel and really just want to grow.
Tell us a little bit about your involvement with the Kingdom Diversity initiative at Southeastern?
It's been awesome. It's been awesome to see the heart of Southeastern as an African American, or as a minority, just seeing their genuine desire to see this school really come to look like the Kingdom of God. Since I got here, I just really feel like I've been loved well. That's been a blessing. I think the Kingdom Diversity initiative is one thing that they are definitely doing right in the essence of trying to bring about change. It's easy to speak it, but you know, here at Southeastern they are really taking action steps to see that that change come about, so it's just been really cool to see that.
Where do you see the Lord leading you after your time at Southeastern? 
That's a good question. Growing up with international missions as such a huge part of my life, and then coming here to Southeastern, I often imagined I'd be serving overseas. But through my time here, I've realized how many of those various people groups have come here — we literally have the world coming to the States! And so, honestly, I feel like the Lord is tugging on my heart to really invest here in the States somewhere, but obviously not to forget about those all over the world. International missions is still something I desire to do, but I believe the Lord is leading me to really invest in an inner city, whether it be in Raleigh, where I'm already part of a church plant, or maybe in San Diego or D.C.
What has been one of the most helpful things you've learned while being at Southeastern?
One thing that I've really learned is not to focus so much on the academic side of things. One thing that was shared with me when I first got here, was "People won't care how much you know until they know how much you care." So I've been challenged to think through what it looks like to really grow, not only academically, but to grow a heart for the lost.
Southeastern Family Features are designed to highlight the ways that current students, professors, alumni and staff are serving the Church and fulfilling the Great Commission. Contact Bethany Brown in the Student Life Office if you have any questions or would like to suggest a SEBTS family member to highlight.