Worship through Music in Spring 2016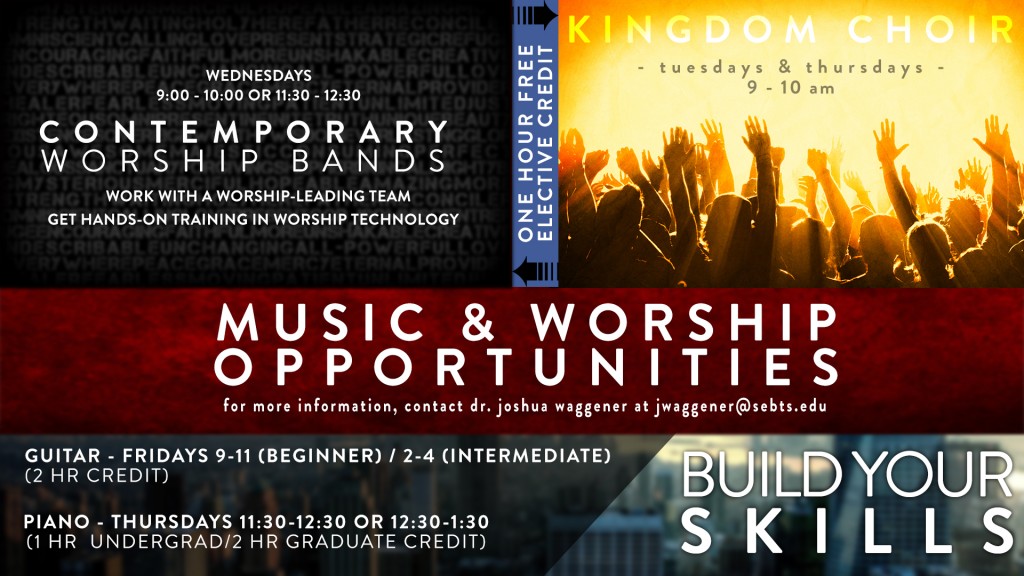 Are you looking for ways to worship through music and build your skills for worship ministry? Would you like to explore a variety of diverse contemporary worship music? Consider these opportunities in Spring 2016!
1. The Kingdom Choir:
Join us Tuesday and Thursday mornings from 9-10am in the Appleby Bethea Room. The Kingdom Choir gives students an opportunity to sing and lead each other in worship. Also, we'll expand our stylistic vocabulary with diverse musical experience both on and off campus. This class can be taken for a FREE elective credit by registering for MUS1581ANON (college) and MUS5581ANON (seminary).
2. Contemporary Music Worship Teams:
Participate in a student-led worship band in designing worship sets, rehearsing, and working with technology, all under the capable coaching of our music and worship staff. These teams meet on Wednesday mornings beginning at 9 or 11:30am. Contemporary Music can be also taken for a FREE elective credit.
3. Musical Skills Classes:
To lead musical worship effectively, certain skills are necessary. Consider taking piano class on Thursdays or guitar class on Fridays. These classes are open to all Southeastern students.
For more information, contact Professor Joshua Waggener at jwaggener@sebts.edu.