The Francis A. Schaeffer Society | An Evening With Udo Middelmann | "Recovering The Fundamentals And Freedoms In The Bible."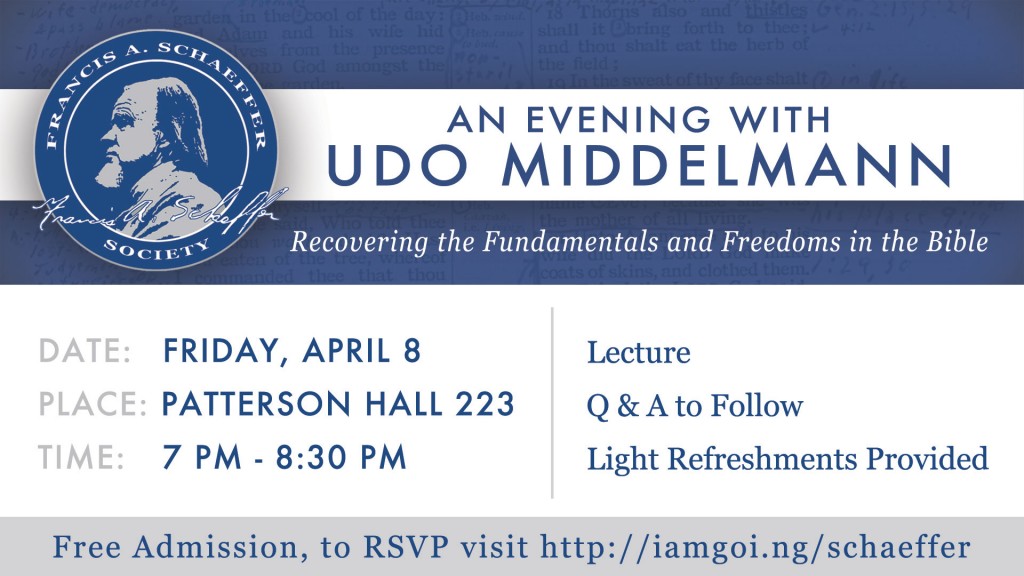 The Francis A. Schaeffer Society presents an evening with Udo Middelmann (President of the Francis A. Schaeffer Foundation) and his wife Deborah (daughter of Francis and Edith Schaeffer). The couple served alongside Francis A. Schaeffer during his ministry and provides a wealth of insight into the significance and application of his principles in our current cultural context.
Udo Middelmann's intended lecture is "Recovering the Fundamentals and Freedoms in the Bible." He will speak on sharpening the Christian Mind to delight in the forms and freedoms God has, by his nature, included in creation and mandated for the life of all human beings.
Light refreshments will be provided starting at 6:45pm and a time for Q & A will follow the lecture. This is a free event, but please RSVP here: http://ow.ly/ZOJ6i
An Evening With Udo Middelmann | Friday | April 8 | 7-8:30pm | Patterson 223