Southeastern offers an on-campus Health Center directed by a physician for students, faculty and staff as well as their families. The Health Center also offers massage therapy and chiropractic services. The Health Center is located on Rock Springs Road across from Wake Forest/Rolesville High School (see below for reference).
For further information, please visit sebts.edu/community-life/health-services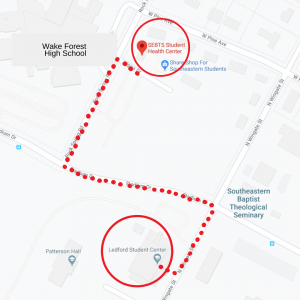 Students and their spouses may use the physician's services without cost during regular office hours. For a minimal cost the Health Center will offer various wellness services such as: dietary services, cholesterol* and blood pressure screening and foreign travel consultations and immunizations for mission trips (please make appointments in advance). Walk-ins are welcome, but the wait time is significantly decreased if students call ahead. Call (919)569-0003 to make an appointment.
OFFICE HOURS:
Tuesdays: 1pm - 5pm
Thursdays: 8am - 12pm
Closed during school breaks unless otherwise noted
Insurance will be filed if applicable. All prescriptions are to be filled by your local pharmacy.
*Cholesterol screening are referred to LabCorp.
Our Chiropractic Services are run by Dr. Joshua McMillon and are available to all students, faculty, staff, and alumni plus their immediate family members and dependents.
You can set an appointment HERE.
Office Hours:
Office hours vary, so please check the link above to see when Dr. McMillon is available.
Location:
SEBTS Campus Health Center, located on Rock Springs Road across from Wake Forest/Rolesville High School.
Cost:
$20 per visit. Children under the age of 10 are no charge.
For questions or emergencies, you can reach Dr. McMillon at 503-415-1857 or email him at doc@thrivewellchiropractic.com.
NOTE: Before coming to your first visit, please print off and fill out this form and bring it with you.
Massage Therapy services can be found at:
Mighty Oak Massage, LLC
Jenn McPhatter and Son, Dakota McPhatter
LMBT #10995 (Jenn)
LMBT #15032 (Dakota)
Hours:
Dakota:
Monday & Tuesday: 10am - 5pm
Jenn:
Wednesday - Friday: 8am-1pm
2 Saturdays/Month (Varies): 8am-1pm
Cost:
60 minute - $45
30 minute - $28
Contact:
To schedule an appointment please text Jenn @ (919)741-8736.