The Share Shop Will Be Reopening on Wednesday, February 2, 2022 from 1pm – 7pm!
About
The Share Shop is a free resource to Southeastern students consisting of donations (such as clothes, kitchen items, etc.) from the Wake Forest Community. The Share Shop strives to carry out the seminary's mission statement: "Southeastern Baptist Theological Seminary seeks to glorify the Lord Jesus Christ by equipping students to serve the church and fulfill the Great Commission." The mission of the Share Shop is to support the mission of Southeastern by processing donations from the Wake Forest Community and offering them as a free resource to SEBTS students. These resources serve two purposes: They fulfill vital family/household needs and they supplement non-vital necessities.
At the Share Shop, clothing is plentiful and ranges from casual to dressy with sizes from newborn to adult. Other items available are books, household items and kitchen appliances. All items are offered at no cost to our shoppers! All of our items are available through donations from SEBTS students or the Wake Forest community during our donation hours listed below. (Note: We do not accept furniture, large appliances, items that have holes, stains, or are worn out, or broken toys/household items.)
Contact Us
Location:
The Auxiliary Ministries are located at 100/102 Hipps Drive (behind the Health Center).
Contact:
Yoli Hernandez at shareshop@sebts.edu
Hours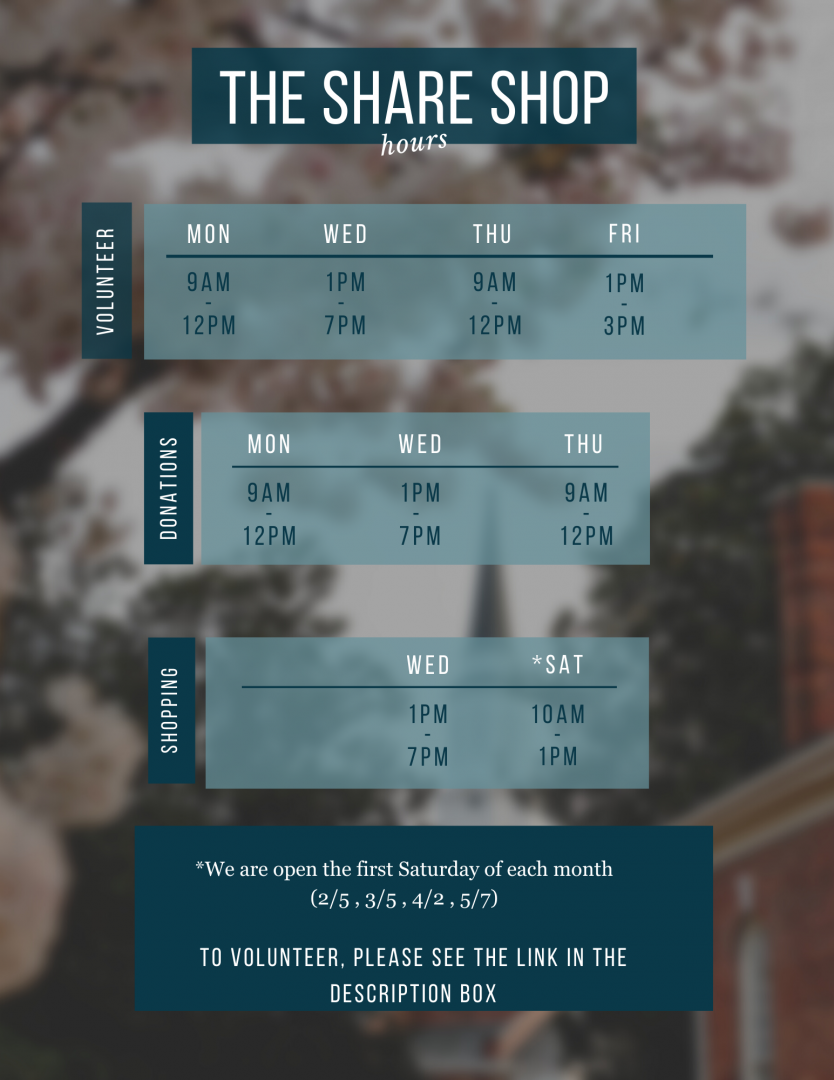 This ministry is completely free of charge - a gift of grace from our Father in Heaven and from our community.
We have been blessed to be a blessing. Though volunteer hours are no longer a requirement to shop, we are unable to maintain this ministry without your help.
Click here to volunteer!
It takes many hours of manpower and administration to keep the Share Shop doors open. Many hands make light work. Please sign up to serve as you are able. If you have any questions, please contact shareshop@sebts.edu